Caribbean Yacht Charter – The perfect Social distancing vacation
June 15, 2020 at 9:20 pm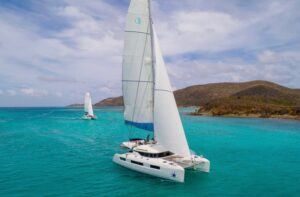 If your family is anything like mine, you've been cooped up in your house for the past few months. Don't get me wrong, social distancing and familial bonding has been great, but as things have started opening up around the country spending family time somewhere other than the living room is an exciting prospect. But with Covid-19 still posing a threat, sharing a resort swimming pool with thousands of guests isn't the most appealing option. So that begs the question: what is the perfect social distancing vacation? Well in my opinion that award goes to the Caribbean yacht charter.
In short yacht charters are a lot like renting an RV. But instead of worrying about a campsite, dealing with mosquitos, and combating road rage you're sailing on a private yacht in turquoise water from famous beach bars to secluded bays. Our family's favorite place to sail is the British Virgin Islands. With over 60 islands surrounding the main hub of Tortola there's plenty of white sand and crystal water so you can be socially distant to your heart's content. Once you're off the dock it's just you, the boat, and some of the best beaches, dive sites, and national parks on earth (and your crew too but we'll talk about that more later).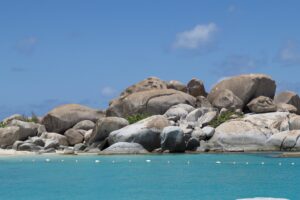 Now for those that are new to charters the biggest concern usually revolves around the boat. Specifically driving the boat, cooking on the boat, docking the boat, and well pretty much everything else you would do on vacation since you're on a boat.
Driving the boat is actually pretty simple. All that's needed is a driver's license in most cases and the charter companies all do a very good job of getting new boaters familiar with the basic functions of the yacht. Additionally, the BVI's are known for their consistent weather and protected waters which makes captaining a boat an approachable task for even novice boaters. That being said most charter companies offer the option to have a captain come aboard and show you the ropes for a few hours too.
Now the biggest choice in a charter vacation is whether to do a bareboat or a crewed charter. Bareboat charters are the most common and generally the cheapest option. As the name implies you charter a "bare boat" i.e. a boat with no supplies or crew. This allows families and friends on charter to provision the boat with the food they want, build their own itinerary, and captain the boat themselves. Crewed charters on the other hand come with a captain and sometimes a cook, who are responsible for sailing the boat and equipping it for charter. While crewed charters are more expensive, we recommend most first-time charters choose this option as it offers a less daunting approach to chartering.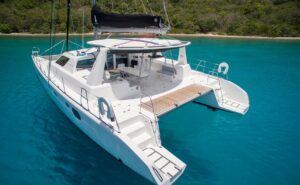 Alright let's talk about the boats themselves. Most of the charter boats in the BVI are catamarans. Catamarans have two pontoons and two motors (regardless if they're a sailboat or motorboat), which makes them incredibly stable, easy to maneuver. Additionally, they often have more living space than monohulls and almost feel like small floating apartments. Now the features on all the boats differ and this is where talking to a broker who has experience can really come in handy. But most boats have between 4-6 queen bed cabins with 4-6 full bathrooms. There is always some sort of kitchen which usually has a small oven, a sink, a 4-burner countertop, and 2-3 refrigerators/freezers. Additionally, there are usually various lounge areas inside and out and some sort of charcoal or gas grill. So rest assured, the boats are set up for almost anything you might need for a week of vacation.
We love the BVI's and everything they have to offer but we also know that the first time chartering a boat can be a confusing and intimidating process. So if you have any questions about the BVI, chartering, or how to get over your Covid induced cabin fever please don't hesitate to contact us. Cheers, the Sailconcierge team