BVI Sailing Charter – Can you do it?
November 12, 2019 at 11:58 am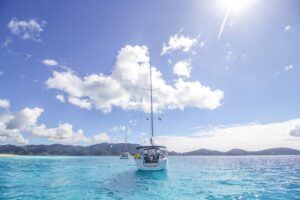 Have you dreamed of sailing through the crystal blue waters of the British Virgin Isands?  If you love the ocean and the excitement of waking up every morning in a new location then you will love the British Virgin Islands.   A BVI sailing charter can seem intimidating if you have never done it before.
There are thousands of boats to choose from, some are great and others are not so great.  Then there are questions around do you go on a crewed boat or do you have enough experience and confidence to take a boat out on your own.   This leads to questions about provisioning, fueling, docking, and a hundreds of other questions that deter many from ever seriously considering a charter in the Virgin Islands.
This is why we created Sail Concierge.   Let us take all the stress out of planning the perfect vacation to the islands.   We can walk you through the different options and set you up with the right training if needed (most of which can be taken online if you choose).  We will help you book everything from the perfect boat to the perfect dinner.  We are here to help you navigate the many different options that are available and create the perfect adventure for you and your family.