The Baths
February 14, 2020 at 12:48 pm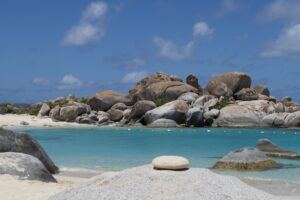 The Baths – A must stop while in the BVI
If you are going to the BVI you need to make a stop at the Baths.   This is a natural beauty.  This geological wonder is on Virgin Gorda's north shore and is comprised of granite boulders which a magnificently scattered around.   These massive granite boulders form little pools and white sand beaches that can lead to hours of exploration!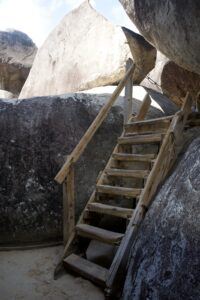 A series of steps and rope handrails guide explorers along a trail through the boulders.   It is physically challenging requiring those going along the trail to go up and down ladders and shimmy across rocks.   Our kids love this spot but my older parents usually stay on the boat or the beach.
In my opinion this is must stop but there are a couple of things you need to keep in mind when going via boat.   There are National Park Moorings  (little red moorings) outside of the Baths.   These can go fast and if you do not get there early you could find yourself waiting for one.   The Baths is also a very popular spot for the cruise ships.   The Baths is beautiful but no so beautiful when you are sharing with 500 other people.   Before you go check out the cruise ship itinerary and find out which days the cruise ships will be at the dock.  You can find the cruise ship schedule at BVIPorts.org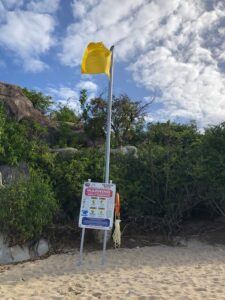 Finally, before you try to paddle board in or even tying up to a National Parks Mooring check the flag on the beach.   This flag post was recently replaced and will provide you valuable information.   A red flag means it is not safe to moor.
A yellow flag means to show caution both mooring and swimming.   The currents in this area can be very strong especially when there is a north swell.   It is always best to be safe than sorry.   You can alway stay in one of the secure bays on Virgin Gorda and take a taxi over to the Baths.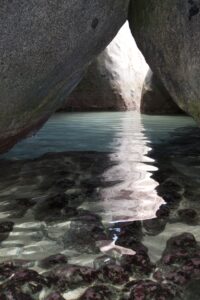 The Baths should definitely be on your list if you are in the BVI.   However, plan your visit around the cruise ships and be aware of the conditions.   We like to get there early in the morning so we have the place to ourselves.